A picture-impression of one of the bigger Citroën events in The Netherlands, the CitroMobile 2001, of which even the parking lot itself is a main attraction.
This one was held the fifth and sixth of May. And the weather was -as usual- fine.
If you want to use any of these pictures in a publication, please contact me.
What struck me this year was that Citroën drivers are just normal people, meaning they behave just as bad in traffic jams as anybody else. As usual there was a huge traffic congestion around the Expo (it took me about an hour to get from the highway (A27) to the Expo), and even though it is very clear your fellow drivers are waiting to enter the Expo, many drivers just have to overtake and even use the lanes of the petrol station to overtake five or six cars. Pathetic, really pathetic.
Anyway, nice CitroMobile, I only bought three miniatures for my collection, and an Xm poster!
For more information on the next CitroMobile visit www.citromobile.nl (link valid 2006-10-29).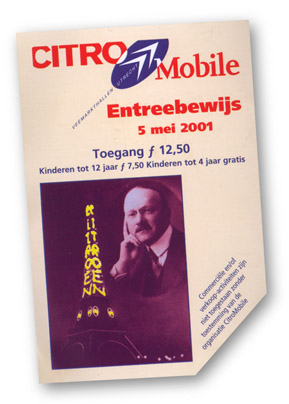 ©2009 Ernst Mulder